Stuck Improving – Pursuing Racial Equity in a Suburban School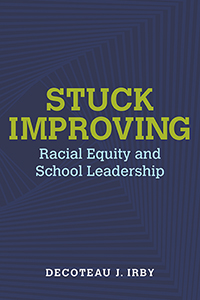 Decoteau Irby is an associate professor in the Department of Educational Policy Studies in the Urban Education Leadership program at the University of Illinois Chicago. He researches equity-focused school leadership as a lever to improve Black children's academic and socio-emotional experiences and outcomes.
Decoteau joins host Mike Palmer in a conversation about his research into developing racial equity programs in suburban K12 schools. He outlines the research he writes about in his book, Stuck Improving: Racial Equity and School Leadership from Harvard Education Press. We explore how the results of racial equity programs run by and for white educators in schools like the one Decoteau studied were not good, particularly for black and brown students. We think about the implications of Decoteau's research and its relevance considering the evolving demographics of America.
It's a surprising conversation about a relevant topic you won't want to miss!
Subscribe to Trending in Education wherever you get your podcasts. Visit us at TrendinginEd for the latest emerging trends in learning.
6673220
{6673220:XWNDLJ99}
items
1
apa
0
default
asc
1532
%7B%22status%22%3A%22success%22%2C%22updateneeded%22%3Afalse%2C%22instance%22%3A%22zotpress-41a8b9511389c47ec3fac55298fd4388%22%2C%22meta%22%3A%7B%22request_last%22%3A0%2C%22request_next%22%3A0%2C%22used_cache%22%3Atrue%7D%2C%22data%22%3A%5B%7B%22key%22%3A%22XWNDLJ99%22%2C%22library%22%3A%7B%22id%22%3A6673220%7D%2C%22meta%22%3A%7B%22creatorSummary%22%3A%22Irby%22%2C%22parsedDate%22%3A%222021-09%22%2C%22numChildren%22%3A0%7D%2C%22bib%22%3A%22%3Cdiv%20class%3D%5C%22csl-bib-body%5C%22%20style%3D%5C%22line-height%3A%202%3B%20padding-left%3A%201em%3B%20text-indent%3A-1em%3B%5C%22%3E%5Cn%20%20%3Cdiv%20class%3D%5C%22csl-entry%5C%22%3EIrby%2C%20D.%20J.%20%282021%29.%20%3Ci%3EStuck%20Improving%5CnRacial%20Equity%20and%20School%20Leadership%3C%5C%2Fi%3E.%20Harvard%20Education%20Press.%20%3Ca%20href%3D%27https%3A%5C%2F%5C%2Fwww.hepg.org%5C%2Fhep-home%5C%2Fbooks%5C%2Fstuck-improving%27%3Ehttps%3A%5C%2F%5C%2Fwww.hepg.org%5C%2Fhep-home%5C%2Fbooks%5C%2Fstuck-improving%3C%5C%2Fa%3E%3C%5C%2Fdiv%3E%5Cn%3C%5C%2Fdiv%3E%22%2C%22data%22%3A%7B%22itemType%22%3A%22book%22%2C%22title%22%3A%22Stuck%20Improving%5CnRacial%20Equity%20and%20School%20Leadership%22%2C%22creators%22%3A%5B%7B%22creatorType%22%3A%22author%22%2C%22firstName%22%3A%22Decoteau%20J.%22%2C%22lastName%22%3A%22Irby%22%7D%5D%2C%22abstractNote%22%3A%22%22%2C%22date%22%3A%22September%202021%22%2C%22language%22%3A%22%22%2C%22ISBN%22%3A%22978-1-68253-657-5%22%2C%22url%22%3A%22https%3A%5C%2F%5C%2Fwww.hepg.org%5C%2Fhep-home%5C%2Fbooks%5C%2Fstuck-improving%22%2C%22collections%22%3A%5B%22BUDT7K5D%22%5D%2C%22dateModified%22%3A%222021-12-13T06%3A04%3A41Z%22%7D%7D%5D%7D