Learning Trends March Madness 2023 Brackets
Welcome to the Learning Trends March Madness 2023 Brackets! Live at SXSW EDU, host Mike Palmer and guests Dr. Tolonda Tolbert, Elliot Felix, and Dr. Robin Naughton, revealed their Learning Trends. Now we reveal the brackets.
Learning Trends
Dr. Tolonda Tolbert
Co-Founder, Eskalera, Inc.
Learning in the Flow of Work
Consumer Grade Learning Experiences
DEI Nudges
Measurable Durable Skills
Mike Palmer
Host, Trending in Education
Gen AI
Polarized Learning Zones
Both/And-ing
Parent Power
Elliot Felix
Author of How to Get the Most Out of College
Identity/Affinity Spaces
Zoom Habits IRL
Online Learning Space
College Scorecard ROI
Dr. Robin Naughton
Web & Digital Services Librarian, Queens College
Chat GPT
Hybrid Work/Learn
The User-Centered Library
Container Collapse
Matchups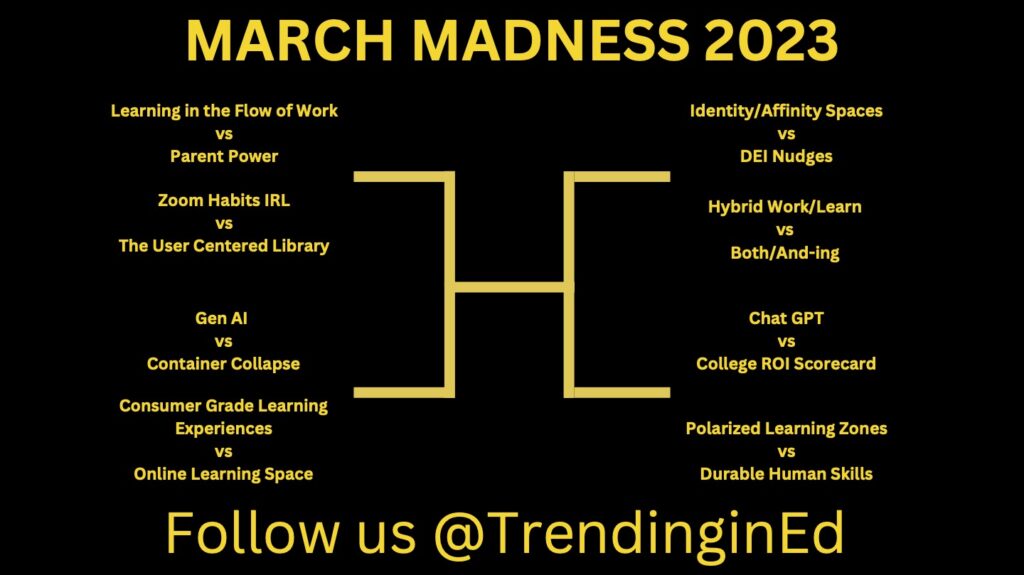 Listen throughout March to hear about the matchups and vote for your trend. It's going to be a great March!